Summer holidays in Schladming-Dachstein
The Schladming Dachstein region offers numerous hiking routes, mountain bike trails, golf courses, downhill trails and lots of fun for the whole family.
Sommercard
Numerous admissions can be enjoyed free of charge or at a discounted rate with the Sommercard. The Schladming Dachstein-Sommercard offers you from May to November 1st varied offers free of charge or at a reduced admission. The Sommercard is available free of charge even for a one night stay in our apartment house.
Golfing in Schladming
Golf & Country Club Dachstein Tauern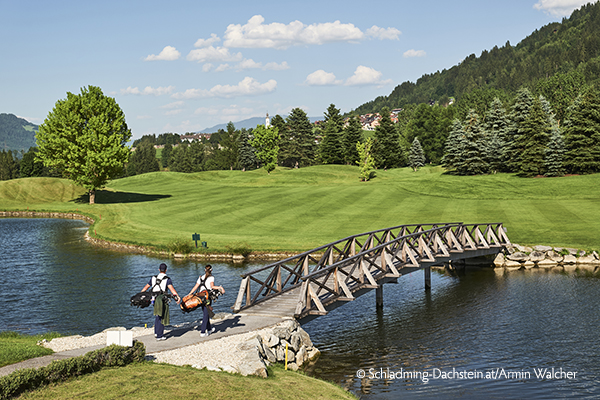 In just 5 minutes by car you are at the Golf Course Dachstein Tauern Golf & Country Club. There you can enjoy the golf game on the beautiful 18-hole golf course. The golf course was co-founded by the ski legend Charly Kahr. Of course, you will get 20% discount on the green fee.
Climbing and hiking region - Schladming!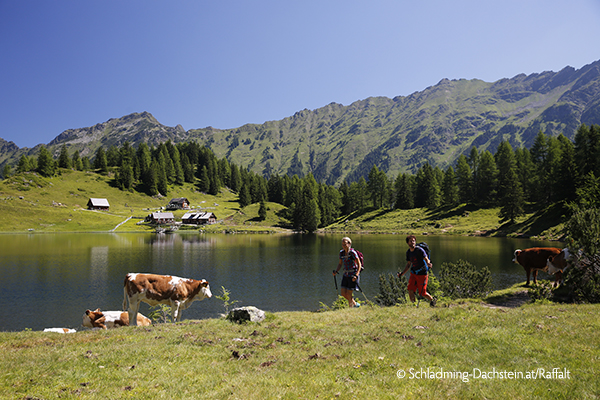 Hiking on and around Schladming's peaks! The gondola in front of the flat door and comfortably "aufi auf den Berg". Not only in winter do our mountains convince with world champion slopes and pure skiing pleasure, but also in summer they show themselves from their best side. Hiking on the Planai, the Hochwurzen and the surrounding mountains ensures unforgettable moments. Plan your hike or mountain tour here or get important information and tips for more challenging mountain tours and via ferrata.
The Talbachklammrunde
On hot summer days, the Talbachklamm invites you to a hike. An entry point into this extraordinary hiking experience, which leads you to the Schladminger Untertal, is located directly in front of our apartment house.
Cycling or mountain bike tours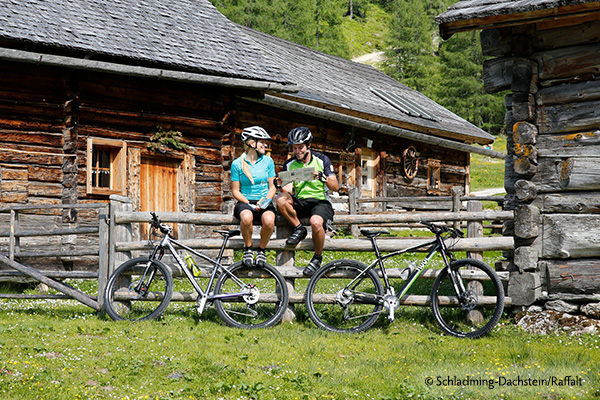 There's something for everyone. Whether it's a Genießerrad tour or a challenging downhill tour – our region has a place for everyone. From Austria's longest downhill park to the idyllic Ennsradweg, there are 32 bike routes at your disposal. You can plan and start your route
here comfortably and easily. If you want to start without planning, the Planai-Tour (Planet Planai parking) is the ideal entry point.
Bikepark Schladming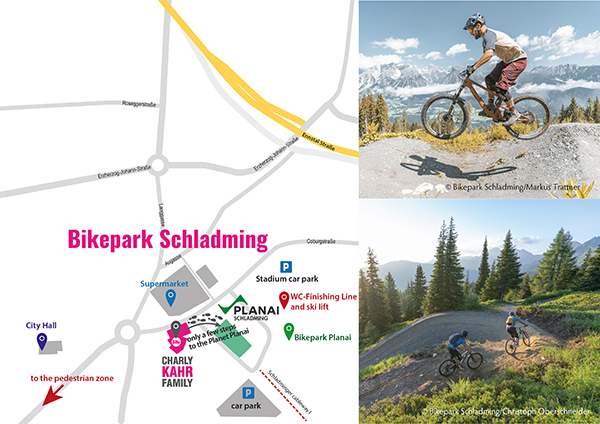 Stay directly at the Bikepark Schladming 2.0, in our flats. Be our guest and get 10% discount on the e-bike rental or on your bike service and use your shopping bonus at Bruendl Sports Bikeworld!
The Planai 10-seater cable car takes bikers and their sports equipment quickly and comfortably up the Planai in Schladming and to the trail entrances. A varied range of trails leaves nothing to be desired in the Bikepark Schladming. Trails such as the Flowline, the Uphill Flow Trail and the Jumpline inspire both beginners and professional downhillers. A variety of downhill trails guarantee maximum biking fun for all pros.
NEW from summer 2022: From the middle station there is now also a flowline down to the valley!
Water fun and more
Perfect water fun for families is offered by our adventure pool Schladming, which is only a 3-minute walk from us and can be visited free of charge with the Sommercard. Our surrounding mountain lakes and waterfalls are also a popular destination.
Hopsiland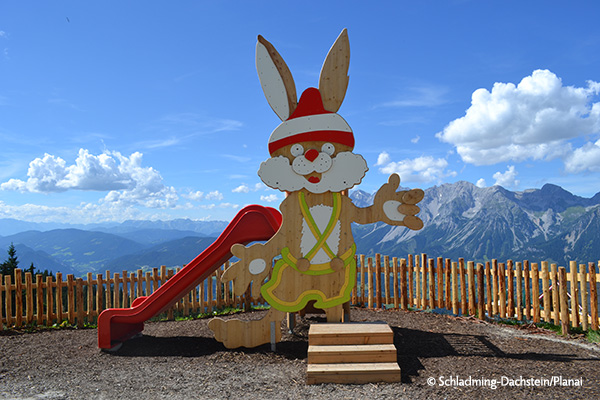 Getting into the gondola, which is almost on our doorstep, and off to the Hopsiland. The playground is suitable for children's cars Hopsiland is a highlight for children with it's numerous attractions.
Dachstein Glacier
Numerous attractions await you at the highest point in Styria. The Dachstein Glacier (2,700 m) is easily accessible by the Panorama Gondola (please reserve an appointment) After the breathtaking gondola ride, the Sky Walk, Ice Palace, suspension bridge and stairway to nothingness are available for further exploration.